Sunday, 29 January 2012 00:00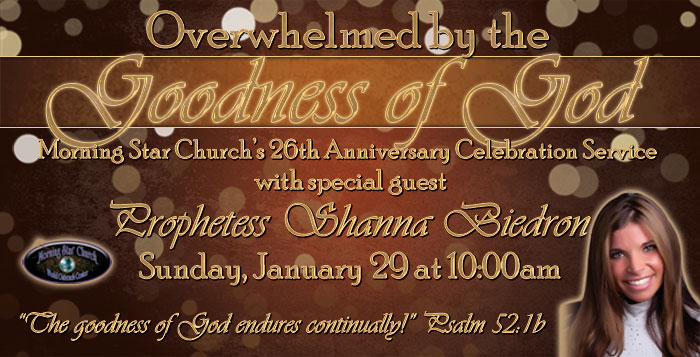 Join us as we celebrate our 26th Anniversary
with special guest minister Shanna Biedron, Sunday January 29th at 10AM.
Through a divine encounter, Shanna Biedron was commissioned by God to prophetically activate heaven's destiny around the world! Every day and everywhere she goes, compassion compels her to lay down her life for the Kingdom, to prophesy life, to demonstrate the Kingdom of Heaven through LOVE, and to teach what it means to become a son and daughter in the Kingdom.

Her heart's desire is to see everyone know the Holy Spirit as a Teacher, Comforter, and most of all Best Friend, and to experience a relationship Jesus that will change their destiny forever!

Shanna is the Founder and President of Supernatural Fire Ministries, a ministry with Jeremiah 29:11 VISION and DESTINY. Shanna has prophesied and ministered to local church congregations, producers, business owners, attorneys, city leaders, musicians, models and actresses around the world. She and the Holy Spirit are the authors of "Arise to Love"; a prophetic and apostolic worship CD straight from the throne room of Heaven!

Last Updated on Wednesday, 25 January 2012 23:44